WE ALWAYS VALUE PRAYERS.
Ministry on the Margins operates by the grace of God, who provides us with wonderful people living on the margins as well as wonderful volunteers and donors. Please pray that we can keep serving each other.
WE ALWAYS WELCOME VOLUNTEERS—Especially in the summer!
Our ministry relies on volunteers for our regular weekly events, and online signup is fast and easy and saves us many worries. We also need volunteers for special occasions, services, and projects, such as programs to help reintroduce former prisoners to employment and society. Contact Julie Dahle, Business Manager, julie@ministryonthemargins.org, to learn more.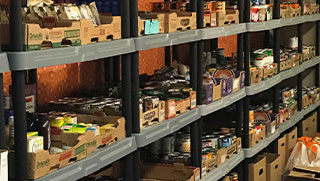 WE ALWAYS NEED DONATED FOOD!
With the increased need for food pantries, we desperately need donated non-perishable items, especially peanut butter, canned soup, ramen noodles, canned tuna, canned fruit and vegetables, cold cereals, and pancake mixes and syrup.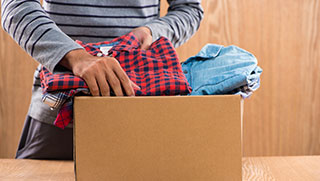 WE SOMETIMES HAVE ROOM FOR "OTHER"  ITEMS.
We always need infant and child diapers and personal items such as toothbrushes, toothpaste, mouthwash, deodorant, clothes soap, feminine hygiene products, incontinence pads, 2-in-1 shampoo and conditioner, and dish soap. Small sizes are preferable to large sizes because many of our folks carry all their belongings in their backpacks.
DONATION HOURS:
Monday – Friday : 8:30 am – 5:30 pm
WE ARE NOT ACCEPTING DONATIONS OF CLOTHING, FURNITURE or HOUSEHOLD ITEMS — however, winter coats, jackets, and boots will be accepted.
Our building remains locked unless an event is taking place, but we are here and looking forward to accepting your donation from the East Entrance, at the parking lot side of our building. Please call 701-223-6315 when you get to the door!