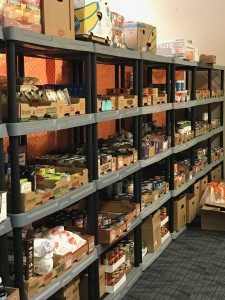 (701) 223-6315 office phone.
201 N. 24th St., Bismarck, ND 58501
Ministry on the Margins is a volunteer-based ecumenical ministry committed to supporting those who fall through the cracks during times of transition. Every week we offer hospitality and coffee, several meals, a food pantry, prison-to-society support, an ecumenical Christian worship service, and many other ministries.
————————————
TO VOLUNTEER: Please volunteer online by clicking "VOLUNTEER" at the top right of this page. QUESTIONS? (701) 400-7887.
————————————
TO DONATE FOOD OR CLOTHING: We gratefully receive and process donations when we're open. The best times are Tue-Wed-Thu mornings, 10:00-11:15, or Thu 3-4:30 pm. QUESTIONS? (701) 400-7887.
————————————
MOTM was founded in 2013 by Sister Kathleen Atkinson, OSB, a sister of Annunciation Monastery in Bismarck.  She was helped by many compassionate individuals, churches, and organizations. MOTM now operates under the guidance of the Benedictine Sisters of Annunciation Monastery.
Please visit our Facebook page!