DONATIONS are accepted Monday – Wednesday 9:30 am – 12:00 pm and 1:00 – 4:30 pm, Thursdays 9:30 – 12:00 pm and 1:00 – 7:00 pm. Fridays by appointment. We are not accepting donated clothing.
Our building remains locked unless an event is taking place, but we are here and looking forward to accepting your donation. Please call 701-223-6315 when you get to the door!
WHAT'S HAPPENING AT THE MINISTRY?!
OCTOBER SHOE DRIVE! 
Accepting men's and women's tennis or "hearty" slip on shoes. Many clients we work with walk many miles to get where they need to be such as work, appointments, to find shelter, food, safety etc. Shoes that will stand up as best as possible in our North Dakota winter are appreciated! 
 *Designates only certain days of the month. 
MONDAYS:
*6:00 – 8:00 pm – "When a loved one is incarcerated" support group – 2nd Monday of each month: November 8, December 13
TUESDAYS:
9:30 – 11:30 am – Food Pantry
*2:00 – 4:00 pm – Free Haircuts – 2nd Tuesday of each month: November 9, December 14
3:30 – 5:00 pm – Ice Cream Social & Community
WEDNESDAYS:
11:00 – 2:00 pm – Open Hours – a time for connection to care for anyone seeking information or services.
11:00 – 1:00 pm – Hand and Foot Care
THURSDAYS:
5:00 – 7:00 pm – Food Pantry
*4:30 – 7:00 pm – COVID-19 & Flu Vaccines: November 4
SUNDAYS:
*2:00 – 4:00 pm – Photo Day at the Ministry: October 24 – ALL SLOTS FILLED! 
Ministry on the Margins will closed Thursday, November 25 and Friday, November 26. 
___
201 N. 24th St., Bismarck, ND 58501701
223-6315 office phone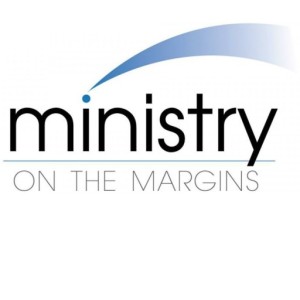 Ministry on the Margins is a volunteer-based ecumenical ministry committed to supporting those who fall through the cracks during times of transition. Every week we offer hospitality and coffee, a food pantry, prison-to-society support, an ecumenical Christian worship service, and many other ministries.
MOTM was founded in 2013 by Sister Kathleen Atkinson, OSB, a sister of Annunciation Monastery in Bismarck.  She was helped by many compassionate individuals, churches, and organizations. MOTM now operates under the guidance of the Benedictine Sisters of Annunciation Monastery.